The Wonderlandmovies Solutions
The world's first automated ad customizer, localizer and personalizer in one.
The success of a YouTube or Facebook campaign is ultimately determined by precise targeting. If you want to achieve the conversion of 1,000 users, then ideally you need 1,000 different video ads and landing pages with relevant content tailored to the interests of those users.
But who has the infrastructure, the staff or the budget to actually do this? This is where smart automation comes into play. Learn more about Infinitizer, the world's first automated ad customizer, localizer and personalizer in one.
Movie Creator: Imagevideo Next Generation
Movie Creator combines the high-quality look of professionally produced corporate videos with the individuality of self-recorded and locally relevant details such as employee interviews and location visits. The innovative combination of server-based, dynamic video generation with on-site recordings, that can be filmed with Internet-enabled HD digital cameras, opens up a multitude of new possibilities in the production of corporate videos.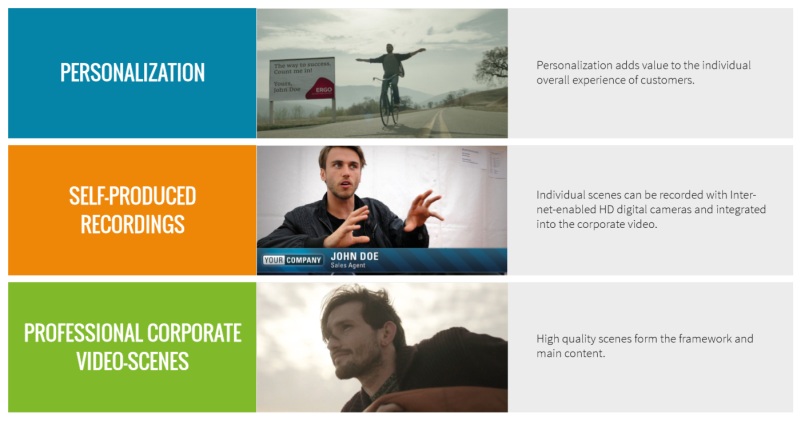 Presentation video
1001 agency videos - A measurable success
Example agency video
Your benefits
Scalability: Movie Creator can combine the framework video, which only needs to be created once, with individual video recordings, such as of locations or sales staff. This allows the production of an unlimited number of localized and personalized videos.
Ease of Use: The system is configured by us - all your employees or office need is an Internet-enabled smartphone with an HD camera. The Movie Creator App is intuitive and offers multiple forms of assistance, such as explanatory films.
One-of-a-kind video: The system creates unique product corporate videos out of scenes, intros, text, background music, and voice-overs that are dynamically combinable.
Flexibility: You can dynamically alter and update all movies at anytime, such as when you need to for specific product campaigns. So your corporate video remains very versatile and current at all times.
Cost Efficiency: What would be very expensive otherwise, is made efficient, reasonably priced and personalized by the remarkable Movie Creator. This is an enormous competitive advantage for you.
Photo-Personalization with Photo-Creator App
Fake photos and photo collages are some of the most popular current trends on the social web. It only takes a quick glance to see the humor, and the photos with the most popular content are shared quickly around the world via Facebook and other social media platforms.

The "Picture Creator App" offers a "StarringYOU" photo service that can be quickly and affordably employed as an add-on for every campaign and website.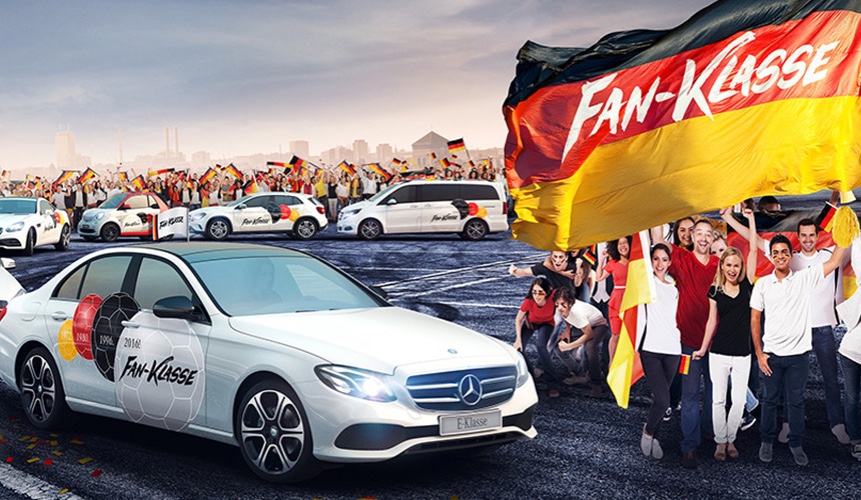 Dancing Friends App
Dancing Friends is a personalizable animation format in a stop-motion style.

Wonderlandmovies, together with our animation partner Scopas AG, regularly develop new funny dances and birthday greetings episodes for the successful iPhone app.

Dancing Friends can be booked as branded entertainment for individual campaigns. For example, a competition and an individual film episode were developed for the TV broadcaster Tele5's autumn-winter campaign, whereby self-made videos could be directly uploaded from an iPhone and then broadcast in a Tele5 program.

We offer branding of our existing film episodes for your campaign or the development of an individual film suitable for your brand. The film can published within the established the Dancing Friends app or be offered as a stand-alone white label app under your brand in the app store.